past bites
Monday, April 20, 2009
Finally.
New Yorkers climb out of their caves and put an end to their 6-month long hibernation.
The temperatures have broken the 70 degree mark and that means ONLY ONE THING to us:
OUTDOOR GARDEN DINING in NYC!
Here, below, are 3 of our favorite little secret spots to catch some rays.
And, oh yeah, eat some great food too!!
FIRST BITE: MEATPACKING SECRETS

Once a nameless bar - for its ENTIRE first year, 2006, it went without a phone number or a name! It was referred to (by those 'in the know') as the "BAR WITH NO NAME"
FOR NOW, we'll refer to it as the "BAR WITH NO ADDRESS." To find it - come aboard and take our
Chelsea Market/Meatpacking District Food Tasting Tour
- and find out about this hidden gem. Your tour guide will point you in the right direction for plenty of SUN and SANCTUARY amidst the Meatpacking Plants of the far West Village.
MIDDLE BITE: PLAY HOOKY with PIZZA

Come on... it's Springtime... you know you want to...
So just GO AHEAD, call in sick to work and join our little eating adventure in the sunshine.
You owe it to yourself - and to your boss (chances are you'll be much more productive when you return the next day).
What could be better than pizza and a glass of wine... under a canopy of sky! And JAZZ right next door if your day happens to turn into night.
To find this gem...
Come take our
Central Village/SoHo tour
.
(Foods of New York is not responsible for repercussions of taking 'mental health' days).
LAST BITE: GREENWICH (VILLAGE) GARDENS


SO, we are aware that summer in not yet fully upon us.
So, before we get ahead of ourselves, we now present to you -
AN ALL PURPOSE GARDEN
.
This one features heatlamps (as well as... amazing fried onion rings with homemade ketchup, mac 'n' cheese topped with bread crumbs and cooked in a skillet, and chocolate pudding that blows JELLO out of the water - or out of the garden, so to speak).
So, in case you get all psyched up for a warm spring day and the evening temps become to cool to 'keep your cool', you can always sit in the outdoor garden under the heatlamps and stay nice a cozy - just like at HOME!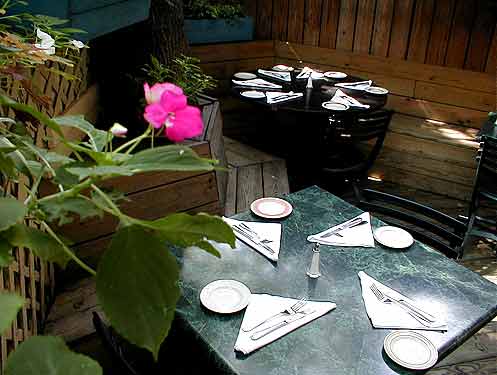 Check out our Original Greenwich Village Tour to get your hands (watch out - those heatlamps are HOT!) one.
http://www.foodsofny.com/greenwichvillage.php
Enjoy. And be sure to take the SPF with you!